WHY?
TO REINVENT TRAINING AT THE AGE OF SOCIAL MEDIA
The digital revolution has democratized audio creation and production, triggering an explosion of DIY artistic vocations.
Moreover, the mass of "how to" online content gives the impression that it is possible for anyone to train themselves on any subject and become proficient from their bedroom. While many try as it is free and easy, results show that it is actually very hard to train yourself and gain a level of proficiency that will be enough to obtain any level of meaningful professional success. Even in the age of the Internet, receiving professional support remains a must to acquire real skills.
Our workshop is based on the DIY approach, offering a short but intensive program which lets students choose their own personal audio creation projects as the basis for their training, while professional audio producers provide the technical knowledge and guidance that will enable students to acquire the skills necessary to produce professional-grade audio and achieve their goals in the real world.
...
FOR WHOM?
BEGINNERS & PROFESSIONALS
Our workshop is targeting anybody who has the goal to produce a professional audio work. In particular:
• People interested in working in the audio production industry;
• Audio creators, musicians, bands, singers-songwriters, hip hop artists, beat makers, DJs, VJs, video directors, film directors, editors and MV directors;
• All ages welcome;
• No minimum skill requirement: beginners, intermediary level or professionals are all welcome;

...
BY WHOM?
AUDIO PROFESSIONAL WITH 20+ YEAR EXPERIENCE
Manels Favre, the founder of RoarMedia, is a professional producer, composer, sound and audio designer and sound engineer. Having received a classical music education from the Poitiers Music Conservatory in France, he graduated from the Masters in Cinema and New Media of Sorbonne University in Paris. For the past two decades, Manels was involved in hundreds of audio production projects in Europe, the US and Asia, from theatrical feature films to animation series, pop music, advertising and video games. In China, he has produced songs for several emergent artists including winners of The Voice China. Many of the films that he scored have won awards at international festivals.
HOW DOES THE WORKSHOP WORK?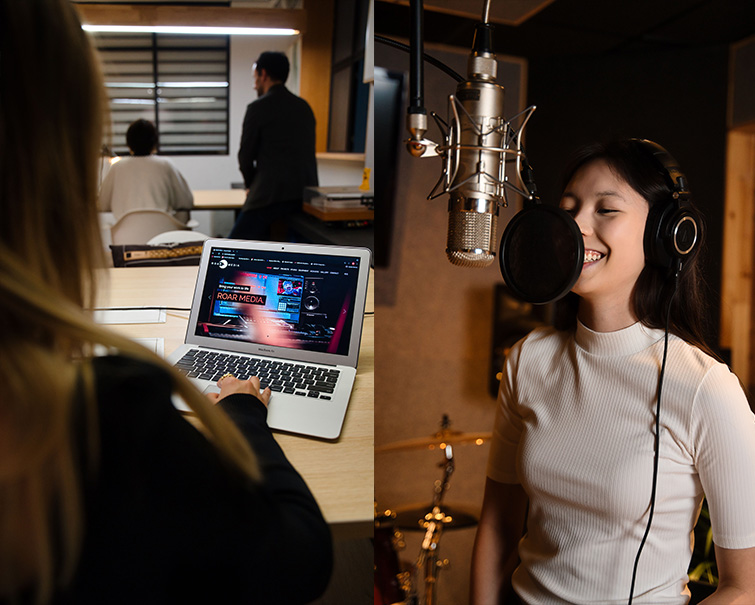 • The student's own personal project is used as the basis of the training;
•The workshop provides the student with the theoretical knowledge and practical skills directly needed to realize their project;
• The training is broken down in five sections and15 Units
1. Sonic analysis (2 Units): listening and breaking down of the various sound elements used in an audio work;
2. Composing (3 Units): analysis of the student's composition, basic composition and arrangement methods;
3. Recording (4 Units): overview of the functions of a recording studio, and basic techniques and process of audio recording;
4. Mixing (4 Units): overview of audio mixing using the students' audio work as example;
5. Mastering (2 Units): overview of mastering techniques.

• At the end of the Workshop, the students will have recorded and produced a professional version of their audio project, and, more importantly,..
•They will have learned all the basic skills and techniques enabling them to become autonomous going forward so they can produce their next professional audio work on their own.